Sun, 25 October 2009
Episode 39 - Drunk With the End of Days
Hey everyone,
After a wild week we are back with episode 39. Jam packed with bunch of great stuff this week.
A look back of our week with 501st Legion & R2-D2 Builders Group at Discovery World, Trazor's Flashpoint event, and Jambot 09 Halloween Party.
Huge news segment with talk on all the great video games still to come out yet this year, Star Wars: Knights of the Old Republic 2 restoration mod, January 2010 Privateer Press releases, and more...oh my! [13:01]
ShaunWoo and Mr. Ruffles talked to
Soda Pop Miniatures
Creative Director/Owner John Cadice. [38:59]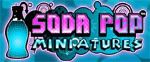 Trazor and Mr. Ruffles give their first impressions review of
Borderlands
for Xbox 360. [1:00:44]
---
Visit the episode discussion on the
forums
to
view links from topics in this episode.
"8 Bit Junkie" is courtesy of George Wood.
---