Wed, 5 October 2011
Hello everyone,
We wanted to work out a Skype interview but our time frames didn't match up, so we did the next best thing! An email interview with R.A. Salvatore, so here are the questions we asked him. Thanks again R.A. Salvatore for taking the time to answer them for us.
1. What can you tell us about your new book, Neverwinter?
The story picks up right after the events in Gauntlgrym, so for those who've read that book, it's pretty clear what Drizzt has in mind. Neverwinter is a story ofrevenge, but as Drizzt walks that path, he'll come to see that the situation in the region of Neverwinter is much more complicated than he understood, and even though he would like nothing more than to extricate himself and his companion from the region altogether, the strands of the web get thicker and more intricate.

2. You have been writing novels with the Forgotten Realms characters for a long time now,
do you find it easier or harder to write story's with those characters.

Both. On the one hand, I know some of these characters so well that their reactions to situations are almost automatic – and what's better is that I've come to understand that if Drizzt or another of the gang is acting out of character, that's an indication to me that I'm missing something, that something else is going on off-screen and I have to go and figure out what it might be. In that regard, the characters have become an incredible tool for me to explore more deeply that which I'm creating.

On the other hand, there's something exciting about discovering new characters, and having so solid a cast can be stifling if I'm not careful. The more recent works – the Transitions Trilogy and now this one – have given me that opportunity!

3. Who is your favorite character from any of your novels?

I love different characters for different reasons – they all play a role. My favorite comedic relief character is Oliver deBurrows from my Crimson Shadow series. Oliver is part Inego Montoya (from the "Princess Bride") and part the little French guy on the wall in Monty Python's "Holy Grail." He's not supposed to make you laugh asmuch as groan. I love writing him.

For bad guys, Marcalo De'Unnero of DemonWars edges out Artemis Entreri. De'Unnero is so firmly convinced that he's right, he can justify anything. And he believes his justicfications; he's truly a wretched soul. My favorite female character comes from that same series, Demonwars. I adore
Jilsepone – those seven books of DemonWars are really her story more than anyone else's. I didn't know that when I started writing the books, but that's the way it turned out.

I have to mention the Highwayman here, namesake of the book, and the major character in the Saga of the First King. I believe that he's an important hero because of the challenges he must overcome. Some of the heartfelt mail I've gotten regarding him reinforces the idea that the Highwayman has touched many readers.

With all of that said, my personal favorite has to be Drizzt. He's become such a friend, such a trusted voice for me. Through Drizzt, I ask myself all kinds of personal questions, and usually find my answers. There's a reason he's resonated with readers for nearly a quarter of a century, I guess, and primarily, that reason is that he's resonated with me for all of that time.

4. What first inspired you to start writing novels?

Honestly? I ran out of fantasy books to read. I fell in love with the genre when I read Tolkien in 1978, in my freshman year of college. By the time I graduated in 1981, I had read about every fantasy book I could find. There weren't that many readily available around 1980. I was working at a mindless job, loading lumps of scrap plastic into a grinder 10 hours a day (and I had to remember to change the catch barrel every 20 minutes – that was the extent of thought for the task). I was going crazy, so my girlfriend at the time, now my wife of many years, told me to quit threatening to write a book and to just do it. So I did.

I was also working as a bouncer, and when I got home from work – 1 or 2 in the morning – I was too wound up to go immediately to sleep. So I put on Fleetwood Mac's "Tuck" album, lit some candles, got out the spiral notebook and wrote Echoes of the Fourth Magic, my first novel. It wasn't my first published work – that was The Crystal Shard - Echoes of the Fourth Magic and its two sequels, The Witch's Daughter and Bastion of Darkness did get published and remain available.

5. Any words of advice for someone who may be interested in writing a novel?

Sure. I always tell beginning writers: if you can quit, then quit. If you can't quit,
then you're a writer. Writing isn't a choice. It isn't what you do; it's who you are.
Writers write because they have to, because they have stories clawing at the inside
of their skin demanding release, because writing is the way they make sense of the world.

If you don't feel that, then quit. If you can't quit, congratulations, you're cursed. You're a writer. Anyone trying to become a writer as a shortcut for fame and fortune should go and buy a lottery ticket instead. This business will chew you up and spit you out.

6. When you create a character's background, do you have it all in your head what it will
be before you start writing the novel, or do you kind of come up with it as you go along?

I have a general idea of a character before I introduce him or her in the book. A
very general idea. I know what he or she looks like. I know how they fight – swords,
bow, magic, etc.? And then, as I write them through the book, I learn about them.
I let the characters tell me who they really are, and sometimes it takes many years
before I finally figure them out. I'm not kidding – a character like Jarlaxle kept me
guessing for the better part of a decade, and I still don't know everything about him.

That's what makes it fun for me. I write books the same way most people read them, not always sure what will be on the next page. Same with the characters. They surprise me, they delight me, they disappoint me all the time. Yes, I'm insane. I'm okay with that.

7. Our gaming group actually played your adventure The Accursed Tower that you wrote
for AD&D 2nd Edition back in the day. Are you still an active gamer with your gaming
group?

I love that module, and we had a blast writing it! By 'we," I mean my gaming group, Seven Swords, because we all had a big hand in the writing. I should run it for my group someday just to see how much they remember.

I guess that answers your question. Yes, I still game – we finished a 4th Edition campaign a couple of months ago. It's harder now because life gets in the way. Some of the group works strange hours, others have small kids who are getting into all the sports and clubs and such that fill up a calendar quickly. We took the summer off, but plan to get back to the D&D table as soon as I get done with my tour. I'll be running the game, so it's back to a 1st Edition-2nd Edition-House Rules hybrid.

8. Some of us are excited about Kingdoms of Amalur: Reckoning when it's release early
next year. Overall, how was the experience of being a part of a new game company like
38 Studios?

It's been an amazing 5 years working with the incredible team at 38 Studios. All credit goes to Curt Schilling, who had the guts and gumption and faith to bring this all together. I can't wait for Reckoning to hit the stores! For all this time, we've been pretty quiet about what we're doing; we want the product, the games, the world, to speak for itself. Well, in February, 2012, it begins 9adn I get to start blabbing about this exciting new fantasy world). I can't wait.

I've only played parts of Reckoning, so I can't wait to sit down and enjoy the whole thing. I truly believe that Reckoning will raise the bar for single-player RPG's. it's visually gorgeous and gone are the days of boring combat…okay, stop me there. The game will speak for itself!

9. Some of the factions in Reckoning seem interesting like the Travellers and the Fey
Court? Do you find it difficult to come up with original material after writing in Fantasy
and Science Fiction settings for so long?

Please don't assume that I'm coming up with everything for Reckoning or for the world of Amalur. It doesn't – it can't – work that way. We've got two teams of incredibly talented narrative designers working long hours every week to put fleshon the bones of the world I and a few others created. I'm not being humble here; I'm being honest. My job was to come up with the basics of the world, a 10,000 year skeleton history and great meta-story (a creation/destruction myth, if you will), so that all of the talented people we brought in – artists, writers, designers, etc. – would be painting on the same canvas. They'd all understand the flavor of the world, the smell of the world. They'd understand the consistency of the world and work within those parameters. Consistency is everything when you're trying to allow a reader or player to suspend disbelief and become immersed.

After the creation, my job is more a matter of editing and coaching. I constantly push the team to think to the next level, and the level beyond that, to not only name a cool region of ruins, but to tell us how it got there. How does it fit in the history of Amalur? Why is it there? Why does it look like that? What does it add?
10. If you could be any character in fiction, who would you be and why?

I'd be a member of the Companions of the Hall. One thing I tried very hard to do with the Drizzt series was give the readers a gang of heroes – friends – with whom they'd love to adventure. Well, it worked, for me at least, because I'd love to be walking down the road beside Drizzt, Catti-brie, Wulfgar, Bruenor and Regis.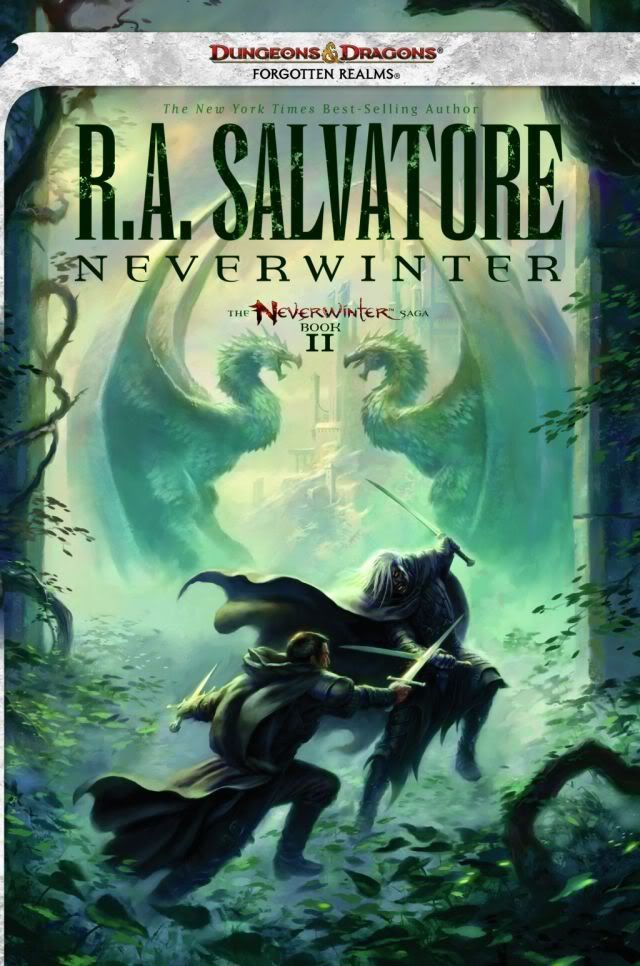 Category:
general
-- posted at: 9:36pm CDT
---